NICOLE McCANCE: THE BENEFITS OF AUTOMIZING YOUR CANADIAN PRIVATE PRACTICE | EP 39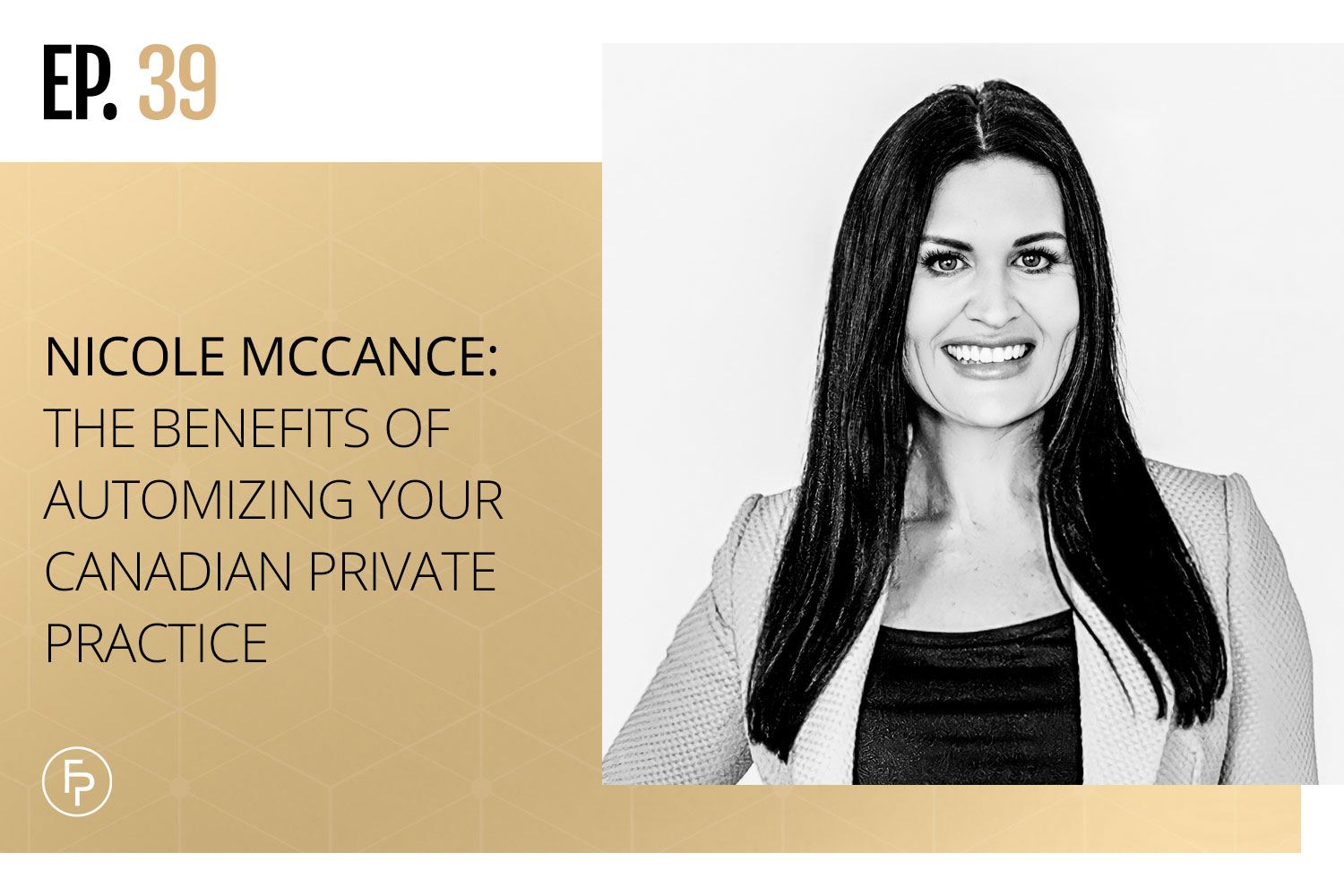 Are you craving more freedom in your work and free time in your everyday life? Are you working at full capacity and hitting an income glass ceiling? What if you could build a totally automated group practice? Is that possible? 
Whether you crave some more mobility in your daily life, you feel like you're on the verge of burnout, or you are in the process of growing your Canadian private practice, you need systems. Automated systems take a huge chunk of work out of your day, allowing you to focus on what is important to you. 
In this podcast episode, I talk about the benefits of systems and how to implement them with Nicole McCance, a master optimiser!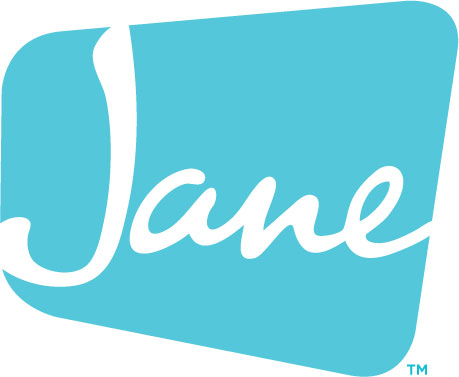 Jane is an all-in-one health and wellness practice management platform designed to be helpful to you, no matter how or where you practice. Available online and on any device, Jane offers branded online booking, beautiful scheduling, insurance management, customizable charting, online intake forms, patient reminders, integrated payment processing, online appointments (telehealth) and more! Use the code FEARLESS at signup to receive your first month completely free!
MEET NICOLE McCANCE
Nicole is a Psychologist turned Business Coach. She grew her private practice to 55 therapists in 3 years during a pandemic with toddler twins at home. She now teaches therapists how to build a 7 figure group practices that are automated.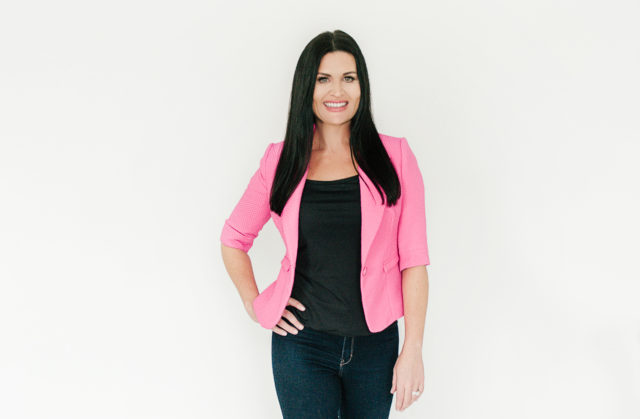 Learn more about Nicole on her website.
In This Episode
Why you should consider systems 

Contractors or employees? 

Create documents 

Use an online booking system 

Track your numbers 

Nicole's marketing tips
Why you should consider systems 
Nicole, like many other psychologists and counsellors, felt the push to do something more beyond her solo private practice. With a bigger family on the way, and feeling the personal and financial pressure to make a change, she realized that she needed to do something different. 
If you are on the verge of burnout, consistently hitting a glass ceiling in your income, know that adding more work to your plate isn't an option, and feel that you are not able to live the lifestyle that you want to, then you need to install some systems into your Canadian private practice and start a group private practice. 
'I can't do it anymore. I know that this isn't the mom I want to be, I don't want to be the mom working evenings and weekends, so I turned to [my husband] and I said, "I'm going to start a group practice. But, it is going to be automated, because I'm not going to be more overwhelmed, and the only way to not be overwhelmed is to have it completely systemised." – Nicole McCance
Contractors or employees? 
If you are deciding between hiring contractors or employees, think about what you can afford and how much work there is to offer. Hiring contractors can be great because you only pay them for the time that they are with clients. Once you've decided, be clear when hiring about your expectations. 
'It starts with the interview and setting those expectations. I was really clear [and said], "We'd love to have you [but] it might be a bit of a slow increase, are you okay with that? What are your expectations? These are mine"'. – Nicole McCance
When you've hired your new staff, practice clear communication right off the bat. They may approach the work that you set out for them to do differently than you, so if you want something done a specific way, you need to set that expectation so that you are both on the same page. 
Create documents 
Make a live Google Doc and write out how you do tasks in your Canadian private practice.
When you hire new admins or employees, send them this document to learn from so that you do not have to individually train each person with the same information. 
Consider writing an operations manual for your admin staff that includes: 
How to book an appointment 

What the cancellation policy is 

How to handle client privacy 
'Even better, you train your admin if they have a question to write the answer in the manual so that you don't ever have to repeat yourself, [otherwise] you're saying the same thing over and over'. – Nicole McCance
Use Loom to create educational videos for your staff to watch as many times as they need to learn more about operations or procedures within your Canadian private practice.
Use an online booking system 
If you want to optimize your business and save time and energy, then you really need to consider installing an online booking system. I use Jane and love that it is a Canadian EMR with a professional online booking system! 
Bypass the front desk entirely and have your admin staff focus on growth-related tasks rather than answering the phone. 
'Here's the system: you want a book-now button on your website to go directly to your online booking. Your admin is [now] not spending time booking appointments. They're spending time running everything and making sure everyone's happy.' – Nicole McCance
Track your numbers
Be on top of your metrics because they show you how well your private practice is doing, where it may need additional support, and what could change for the better. Numbers do not have to be daunting! 
Once you understand them better, you unlock a whole other scope of supporting and growing your Canadian private practice by preparing, planning, and changing for what is needed in your business and within your community as life changes. 
'Otherwise, we don't even really know if we're growing if we're not tracking.' – Nicole McCance 
At the beginning of each week, you can look at and track numbers like: 
How many new consultations happen per week 

How many new appointments were booked 

In general, how many appointments were booked with recurring and new clients

How many no-shows and cancellations happened
Nicole's marketing tips 
Before you do any marketing, make sure your website is well-branded. Don't send anybody to your website if it's not going to convert clients. 

Remove any photos of a couch and an empty room! 

Connect with local and family doctors 
'One good family doctor [referral] can lead to an avalanche [of clients].' – Nicole McCance
Connect With Me
Resources Mentioned and Useful Links:
Ep 38: Why You Should Start an Online Canadian Private Practice | EP 38  
Sign up for my free e-course on How to Start an Online Canadian Private Practice
Jane App (use code FEARLESS for one month free)
Create educational videos with Loom 
Learn more about Nicole on her counselling website, course website, Psychology Today profile, Instagram, and LinkedIn profiles. 
Rate, review, and subscribe to this podcast on Apple Podcasts, Google Podcasts, Stitcher, Spotify, Amazon, and TuneIn.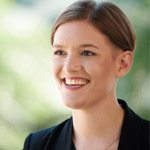 About Julia
Julia Smith, MEd, RCT, CCC, is the owner of Fearless Practice. She specializes in consulting with Canadian counsellors and therapists who want to start a private practice. She also owns a private practice in Halifax, Nova Scotia where she helps teenagers and adults who want to be confident and happy but are feeling weighed down by anxiety, stress, and depression. She also blogs for the Canadian Counselling and Psychotherapy Association. You can read more articles about Canadian counselling and psychotherapy at www.ccpa-accp.ca/blog/.