How To Set Up A Canadian Private Practice Website
Note: This post contains affiliate links and I will be compensated if you make a purchase after clicking on my links.
One of the most important things you should do when starting a Canadian private practice is to build a private practice website. Having a website is one of the best ways to advertise your services as many people use the internet to find counselling services nowadays. In my Canadian private practice, it is the main way clients find me!
Learning The Tech Lingo
Before creating a website, it's important to know some website terms that will help you make your decision on how to build your website:
SEO: Search Engine Optimization
Search Engine Optimization is very, VERY, important as it helps your website rank higher in internet searches. You want to have excellent SEO so that your website will be one of the first suggestions to appear in a search like Google.
For example, let's say you specialize in counselling Canadian's with depression. If someone searched for 'Canadian counsellor to help with depression' on the internet and your SEO is optimized for 'Canadian counsellor' and/or 'depression help for Canadians' … then your website would hopefully be one of the first listings to appear! If your website does NOT have great SEO… it will be very difficult for potential clients to find your website because your private practice website could get buried and be on the 2nd-10th-20th page of a search! Most people rarely go to the second page of searches when finding information, as there are usually great options on the first page. So it is REALLY IMPORTANT to optimize your SEO so that your website is on the first page of internet searches.
Domain:
Your website address ie. www.fearlesspractice.ca
Hosting:
Is a service that publishes your website to the internet
CMS: Content Management System
Content Management Systems are very powerful platforms that help to organize and set up content on your website. They are flexible and have limitless options for development of your website. However, experience in the technical aspects of creating your website is needed. The main CMS is WordPress (30% of the internet uses it to create websites!).
Website Builders:
Website builders such as Wix, Squarespace, Brighter Vision, and Clinic Sites are proprietary platforms that make creating a website simple. But since they are platforms and not built on WordPress, they have limited design components, minimal SEO, and if you ever wanted to leave – you would lose your website and not all of your SEO will transfer to your new website.
Plugins:
Extra software that adds things to your website.
Why WordPress is Better Than a Website Builder
Website builders make creating your website easy. But because they are simple programs, they have many limitations for Canadian counsellors who want a beautiful private practice website and awesome SEO. I chose to use WordPress instead of a website builder because of two reasons:
· Reason #1: WordPress has the best SEO
Website builders do offer SEO but it is limited compared to WordPress. As Nathan from Creative minds explains when comparing Wix to WordPress:
"There's little benefit to building a website if nobody can find it, and search-engine optimization (SEO) is another area where WordPress shines.

WordPress is very SEO friendly, with multiple SEO features built into it off the bat. Of course, you will still need to make sure that you maintain good SEO practices across your website, but even if that is a concern there are ample plug-ins available to help optimize your website and improve its search rankings.

In contrast, Wix presents very limited SEO features. You can still add title descriptions to your pages, include alt-text in your images, and generate a sitemap, but aside from that there isn't much more you have control over."
(Click here to read the full article)
Or as Dervix explained in their article:
"Using WordPress benefits not only the user. It will save you, the owner, a lot of time as it has tools and features that you cannot find elsewhere. Many entrepreneurs develop new themes and plugins daily. It results in an overall better experience for everyone. SEO cannot be an exception, moreover, you will have more benefits from it than any other CMS system. Concluding, WordPress is still the best platform for SEO and will be for many years to come."
(Click here to read the full article)
· Reason #2: WordPress is flexible
Yes, website builders make creating your Canadian private practice website easy to build. But because of this, you loose a lot of flexibility in what you can do with your website.
Flexibility in switching theme and content
When you choose a theme in a website builder you are locked into it. Plus your information is on their server so if you ever decide to switch companies your website content will be deleted (and you'll have to start from scratch with your content and SEO!!!!)! But with WordPress you can easily switch your website to a different theme or create your own! (they have over 5000+ and more being created daily) PLUS, since it is a CMS, you own your website.
WordPress also has unlimited plugins. A couple months ago I decided I wanted an arrow pointing down on my main photo on my Fearless Practice website so that visitors knew to scroll down. Luckily, because my website was created through WordPress, I had the option to put in an arrow. With website builders you are VERY limited in what you can add to your website. Yes, in the short term all you may need is a simple website, but as your business grows, your website will to. As Brian from Kinsta says:
"It's common for the themes to serve as the site's foundation. After that, the design work is minimal besides some color changes, logo additions, and of course, the new pages and blog posts.

But every once in awhile you realize that something new needs to be added to your website. Maybe your customers are clamoring for a membership section of your site, or maybe you realized that a monthly quiz is a great way to get customers to interact with your brand. In both of these situations, a plugin rectifies the issue."
(Click here to read the full article)
Yes, website builders make it soooooo easy to create a Canadian private practice website. But what is the point if no one can find it? What is the point if in a year it doesn't meet your website needs? What is the point if you don't own it?
Website builders have:
limited SEO
limited design
limited flexibility.
Don't waste your time and money on website builders. They may look beautiful but are not worth it!
Recommended WordPress Options for Building a Canadian Private Practice Website:
Below are my suggestions on what companies to work with when building your Canadian private practice website. Most of the companies I am suggesting include a domain web address (ie. www.fearlesspractice.ca). BUT, for myself, I like to purchase my domains outside of the companies that I work with so that I own them separately. I purchase my domains from I Want My Name because it is easy to use and renew domains.
WordPress Website Options:
Level 1: WordPress.org
($5.35 CAD per month for hosting)
This option is great for Canadian counsellors who are tech-savvy and have a very tight budget! WordPress.org is hosted on your own server that you have purchased through a hosting company. I recommend Bluehost (link). Once you have your host you can choose from free themes to help build your website and you will have full control of your website! The downside is that you will solely be in charge of updates, security, plugins, and design which can take up A LOT of your time.
Level 2: WordPress.com
($33 CAD per month for their premium plan)
This option is great for Canadian therapists who are NOT tech-savvy and have a very tight budget. wordpress.com will host your WordPress website and provide you with security for your website. You can choose from VERY cheap monthly plans and the best part is, as your Canadian private practice grows and you want more flexibility with your site… you can switch to wordpress.org! The downside is that if you use wordpress.com you will not have full control of your website or and you will be limited to what plugins you can use. Plus you still will have to create and design your website solely by yourself which… again… will take A LOT of time to do.
Here is a great article that reviews the differences of wordpress.com and wordpress.org
Level 3: Beam Local
($135 CAD TO BUILD THE WEBSITE THEN $79 CAD PER MONTH)
Beam Local is who built and manages my awesome  Fearless Practice website. This Canadian company is awesome because they build professional websites for counsellors, maintain the website, provide unlimited support, and so much more! Plus, their websites are built on WordPress which gives you excellent SEO and design flexibility as your business grows.
Happy building!
Julia
Disclaimer: The information provided through this blog is for informational purposes only. It is not clinical or consulting advice. E-subscribers and website visitors are receiving general advertising and information about starting a Canadian private practice and should not act upon this information without seeking professional consultation.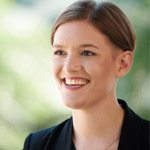 About Julia
Julia Smith, MEd, RCT, CCC, is the owner of Fearless Practice. She specializes in consulting with Canadian counsellors and therapists who want to start a private practice. She also owns a private practice in Halifax, Nova Scotia where she helps teenagers and adults who want to be confident and happy but are feeling weighed down by anxiety, stress, and depression. She also blogs for the Canadian Counselling and Psychotherapy Association. You can read more articles about Canadian counselling and psychotherapy at www.ccpa-accp.ca/blog/.