How To Set Your Counselling Fee in a Canadian Private Practice
Starting a Canadian Private Practice
Setting your counselling fee can feel like the most difficult decision. As counsellors, we came into the profession because we want to help people. So, it can feel counterintuitive to place a barrier for people who want help. But unless you don't need to make an income, you will have to charge clients for their sessions!
Here are some recommended Do's and Don's for setting your Canadian private practice fee:
Don't
Set your rate lower than other counsellors in hopes to build your caseload faster. Know your worth and don't be scared to ask for it. Yes, you may build your caseload faster with a lower fee BUT you will be working more hours for less money. Setting your fee lower than others can also hinder you getting new clients, as people will question your skill set and abilities. Having a low fee can imply that you are not a capable counsellor.
Do
Make sure you have at least 3-6 months worth of income saved so that you will not be desperate to get clients. Without any savings, it can lead to anxiety and stress if you do not have enough income to pay the bills. You may also be at risk of making decisions out of worry instead of integrity.
Don't
Set your rate in par with other private practice therapists in your neighborhood.
Do
Niche. Choose one to three types of issues you specialize in and then set your fee at least $10 more than other Canadian private counsellors in your neighborhood. You deserve to be paid more for issues that you are an expert in. This will also help you build your caseload, as potential clients usually prefer to see someone that specializes in what they are going through rather than a generalist.
Don't
Start a waitlist and keep your rate at the same price as you get full. It takes A LOT of courage for people to seek help and can be very upsetting when they have to wait weeks or months to see you.
Do
Raise your rates for new clients once you start to become full so that you have a couple session spaces available each week.
Other things to consider when setting your rate:
How much your business costs are
How much you want to put away for income tax each month
How much you want to save for retirement
How much you want to save for future business stuff
How much you want to save for the future
How much you need to make to pay your monthly bills
How much you want to make to have the lifestyle/self care you need in order to be the best counsellor you can be
How many clients do you want to see each week
Thus the equation for figuring out your fee per client is:
[Business costs + Income Tax + Retirement Savings + Future Business Savings + Personal Savings + Monthly Bills + Lifestyle Cost] Number of session per month
= Session Fee +HST
Disclaimer: The information provided through this blog is for informational purposes only. It is not clinical or consulting advice. E-subscribers and website visitors are receiving general advertising and information about starting a Canadian private practice and should not act upon this information without seeking professional consultation.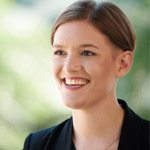 About Julia
Julia Smith, MEd, RCT, CCC, is the owner of Fearless Practice. She specializes in consulting with Canadian counsellors and therapists who want to start a private practice. She also owns a private practice in Halifax, Nova Scotia where she helps teenagers and adults who want to be confident and happy but are feeling weighed down by anxiety, stress, and depression. She also blogs for the Canadian Counselling and Psychotherapy Association. You can read more articles about Canadian counselling and psychotherapy at www.ccpa-accp.ca/blog/.