DR. MARLENE TAUBE-SCHIFF: OWNING A SUCCESSFUL ONLINE GROUP PRIVATE PRACTICE | EP 75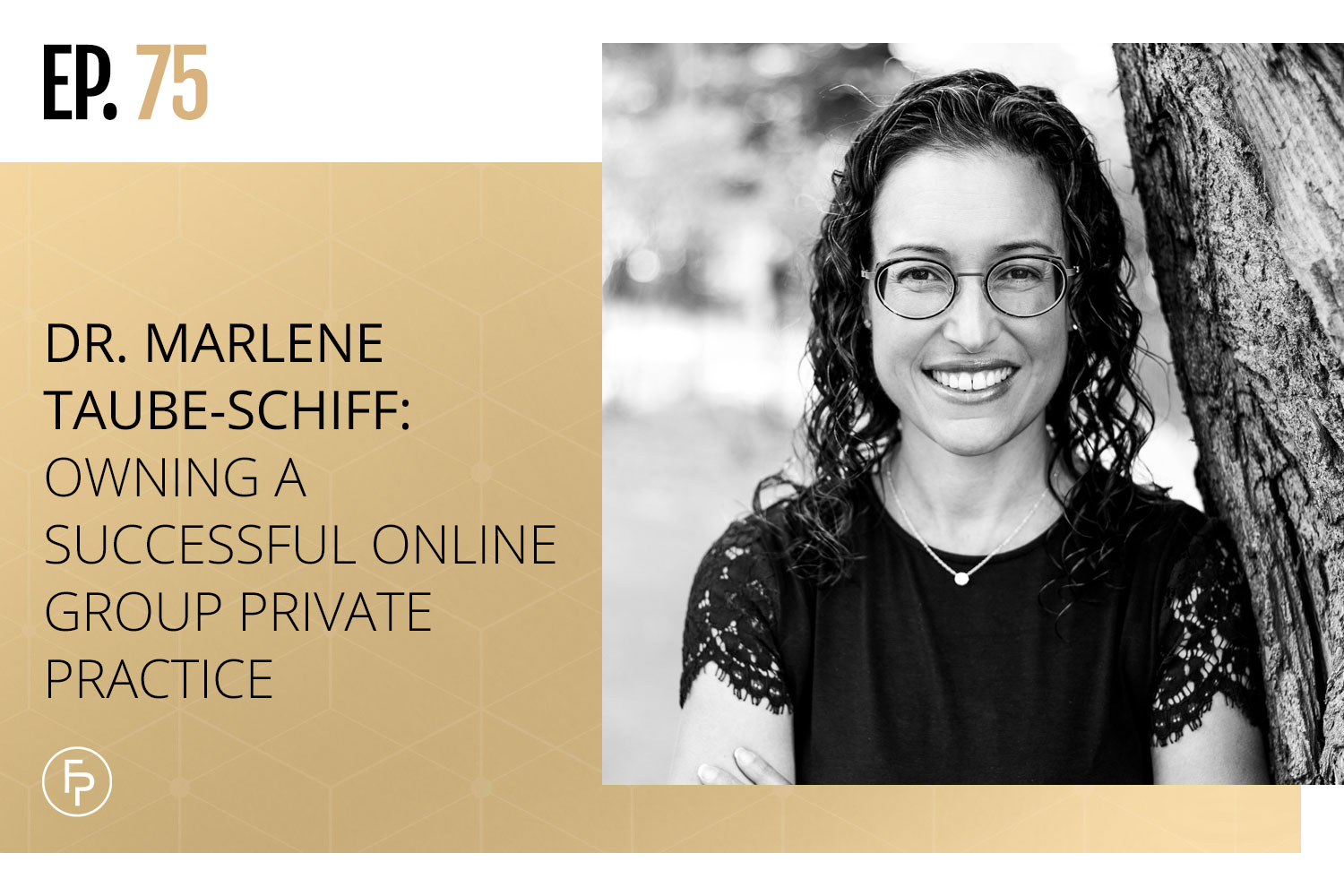 In the past, Dr. Marlene Taube-Schiff never imagined that she would one day create and own a thriving, online Canadian private practice. She worked full-time in hospitals and in Universities, content with her work and the way her professional life was laid out. 
However, when covid began and new online options for therapy started, she realized that she wanted to try something different because when life changes, we often find ourselves inspired to try things we never expected we would. 
If this story resonates with you, or you feel that you are walking a similar path, give this episode a listen. Dr. Taube-Schiff and I discuss her process from working full-time in hospitals to full-time in her own private practice, and how she made the journey!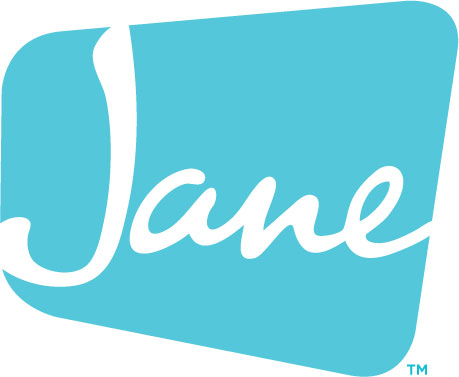 Jane is an all-in-one health and wellness practice management platform designed to be helpful to you, no matter how or where you practice. Available online and on any device, Jane offers branded online booking, beautiful scheduling, insurance management, customizable charting, online intake forms, patient reminders, integrated payment processing, online appointments (telehealth) and more! Use the code FEARLESS at signup to receive your first month completely free!
MEET MARLENE
Dr. Taube-Schiff is a clinical psychologist. She is registered in Ontario as well as British Columbia and works with adolescents and adults. Her practice, Forward Thinking Psychological Services, is a group practice where healthcare professionals work with individuals with a variety of mental health issues. They often see individuals with OCD and OCD-related issues. Dr. Taube-Schiff is one of the founding professionals of the Sunnybrook Intensive Services OCD program and has worked in several academic hospitals in the GTA.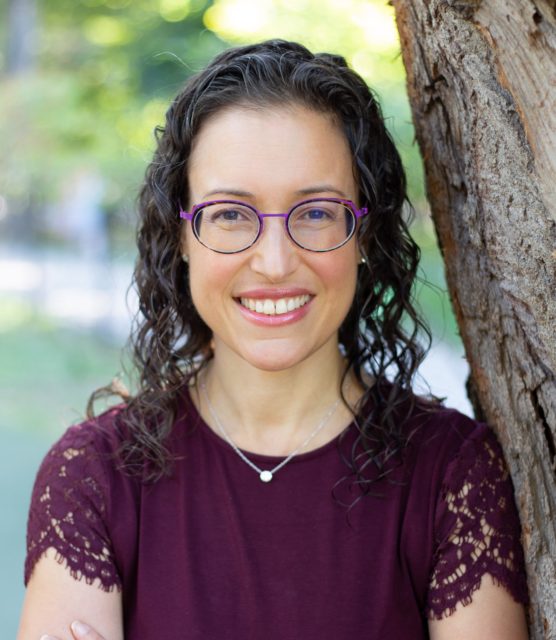 Learn more about Marlene on her private practice website, LinkedIn, and Psychology Today profiles.
In This Episode
Dr. Taube-Schiff's journey to private practice

Intentionally pairing personal needs with business dreams 

Developing a niche 

Building the practice 

Marketing with newsletters 

Dr. Taube-Schiff's advice to practice owners
Dr. Taube-Schiff's journey to private practice
Dr. Taube-Schiff did not see herself launching an online private practice from the very beginning. In fact, she enjoyed her time working in the hospital system and continued in those jobs until her path changed. 
'I was actually someone in psychology who really didn't do, I have to admit, much private practice. I did a little bit during what we call our "Supervisor Practice Year" … I did a little bit after that … then I had kids and I was working full-time, [so] I felt like my plate was full.' – Dr. Marlene Taube-Schiff  
When she did decide to venture out into private practice, she felt unprepared to some extent even though she could call on many years of leadership experience from her previous job roles in mental health. 
So, what sparked the change? 
'I think the pandemic [was a factor] … for many people, there was thinking about, "What is it that I want at this point in my life?"' – Dr. Marlene Taube-Schiff
When Dr. Taube-Schiff started considering private practice, she slowly made the transition from working full-time to part-time at the hospital while she laid the foundations of her new Canadian private practice.
Intentionally pairing personal needs with business dreams 
'Private practice became enjoyable [for me] … there's a flexibility that comes with private work that's quite lovely. There was an opportunity to spend time differently with my kids and with my family.' – Dr. Taube-Schiff 
Dr. Taube-Schiff knew that she wanted to make changes in her life. Her priorities had shifted, and with the opportunity for change that the pandemic presented, she decided to change her work setup and try something new. 
In this way, launching her own Canadian private practice became a way for her to continue to see clients and do the work that she enjoys while being able to spend time with her family. 
Developing a niche 
When Dr. Taube-Schiff was launching her new private practice, she booked a consultation with me to discuss how it would unfold. One topic we discussed was what her niche would be, because they are vital aspects to launching private practices. 
'I don't think I realized how niched we'd become … how focused on OCD the practice would get known for which has been a delight, to be able to work with those individuals … it's been amazing to be able to provide that [service to those who need it].' – Dr. Taube-Schiff 
Dr Taube-Schiff decided to lean on her passions and build from them, which led her to grounding her new Canadian private practice mainly on the treatment of OCD.
Building the practice 
Dr. Taube-Schiff started at the very beginning of her Canadian group practice journey with another colleague from Sunnybrook where she still worked part-time.
'That was lovely … and [everything] happened so quickly!' – Dr. Taube-Schiff
The new Canadian private practice just kept growing. From their combined network and colleagues, Dr. Taube-Schiff and her co-founder were able to hire the right people quickly and find clients that needed their services. 
Now that the practice has grown, Dr. Taube-Schiff still sees some clients but spends most of her time supervising any clinicians that require it in her practice. This has encouraged her to get better at managing her time, energy, and commitments. 
Marketing with newsletters
Dr. Taube-Schiff's private practice sends out monthly newsletters. Sure, it does require a bit of work, but it can be outsourced, and if you use it well it can be a great platform for you and your clients to stay up to date with each other. 
With newsletters, you could advertise a new associate that's starting, new information that has been released, or any changes to the private practice that clients need to be aware of altogether. 
'If we had a group starting we would send it out on our newsletter. I guess it's a nice way to spread word-of-mouth [but] I don't know with all of the technology and social media if it's like the most effective way nowadays? Social media postings I think are probably …' – Dr. Taube-Schiff … 

… 'Instant newsletters!' – Julia Smith 
You can decide what would be best for you, your practice, and your clients. Marketing strategies can vary and you can make them as unique as you'd like, as long as they serve their purpose well. 
Dr. Taube-Schiff's advice to practice owners 
'Ask if you are unsure because you really don't want to set something up in the wrong way and then need to undo the whole thing.' – Dr. Taube-Schiff
Sure, there will be some things that you learn along the way and that you can only learn by attempting to do, but if there are things that you are actively wondering about, then pursue some knowledge to help you out. 
Connect With Me
Resources Mentioned and Useful Links:
Ep 74: The Brighter Vision Update and What I Decided To Do | EP 74 
Learn more about the tools and deals that I love and use for my Canadian private practice
Sign up for my free e-course on How to Start an Online Canadian Private Practice
Jane App (use code FEARLESS for one month free)
Learn more about Marlene on her private practice website, Twitter profile, LinkedIn profile, and Psychology Today profile. 
Rate, review, and subscribe to this podcast on Apple Podcasts, Google Podcasts, Stitcher, Spotify, Amazon, and TuneIn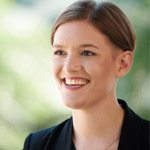 About Julia
Julia Smith, MEd, RCT, CCC, is the owner of Fearless Practice. She specializes in consulting with Canadian counsellors and therapists who want to start a private practice. She also owns a private practice in Halifax, Nova Scotia where she helps teenagers and adults who want to be confident and happy but are feeling weighed down by anxiety, stress, and depression. She also blogs for the Canadian Counselling and Psychotherapy Association. You can read more articles about Canadian counselling and psychotherapy at www.ccpa-accp.ca/blog/.