JULIE LOUNSBURY: HOW A LEAP OF FAITH LED TO SUCCESS IN PRIVATE PRACTICE | EP 70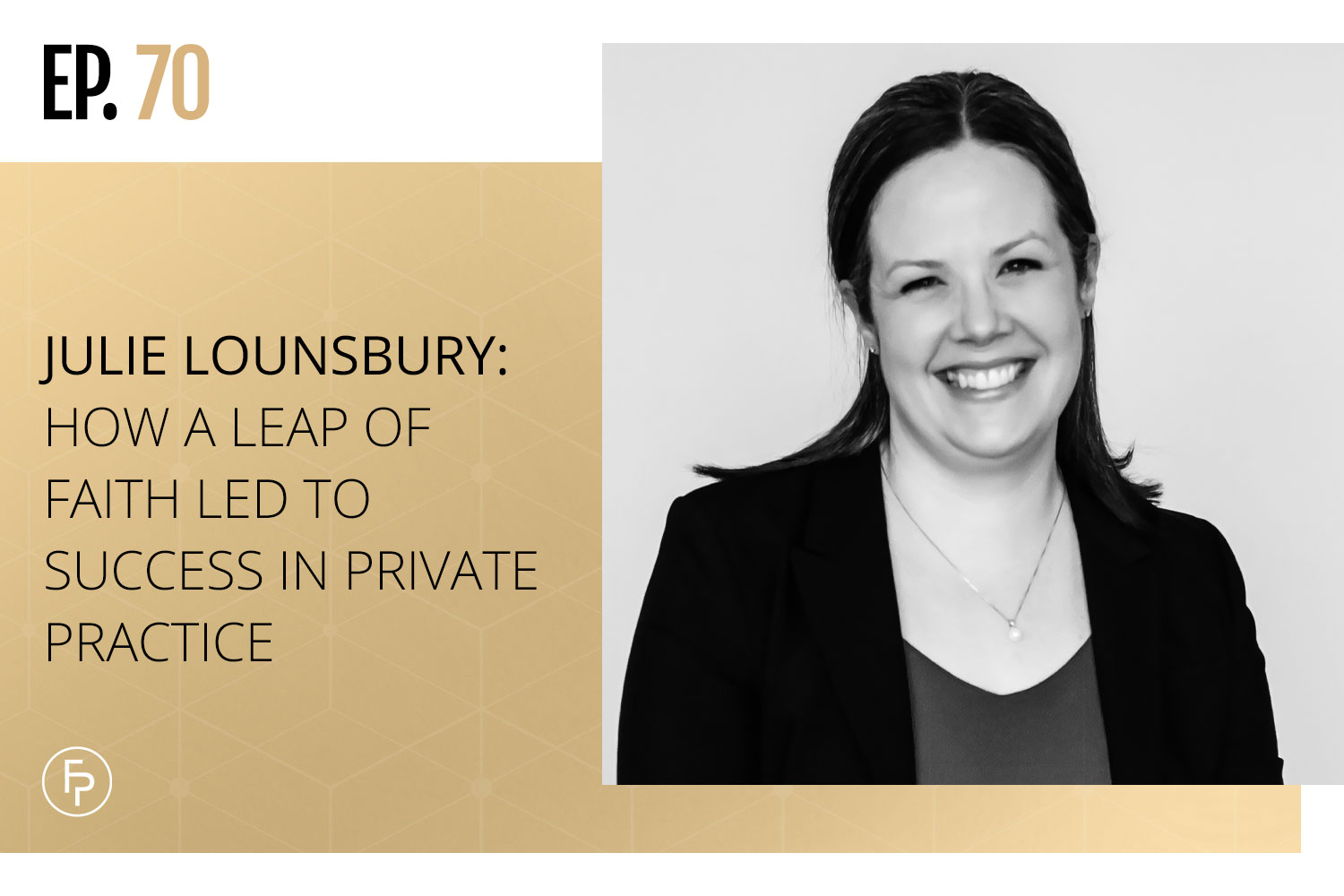 What has been holding you back from launching your Canadian private practice? Which challenges have you been nervous about facing that you know others before you have accomplished? What can it take to help you to accomplish them too? 
There are pros and cons of working in a steady job for another company or organization, and pros and cons of running your own Canadian practice. Neither option is good nor bad in general, but where it matters is what matters to you. Do you want to be in charge of your time, your money, and your work? 
In this podcast, Julie and I discuss the fear – and success – of taking a leap of faith to launch a private practice. If you are becoming more invested in shedding the "golden handcuffs" of working a government job and striving to launch and run your own Canadian private practice, then give this episode a listen.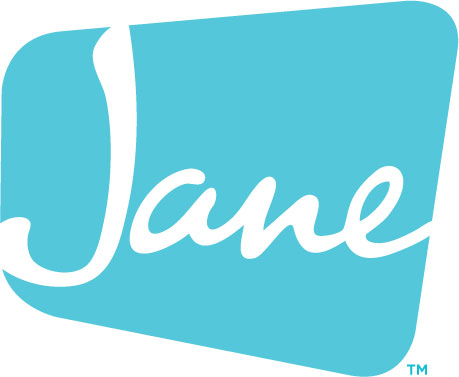 Jane is an all-in-one health and wellness practice management platform designed to be helpful to you, no matter how or where you practice. Available online and on any device, Jane offers branded online booking, beautiful scheduling, insurance management, customizable charting, online intake forms, patient reminders, integrated payment processing, online appointments (telehealth) and more! Use the code FEARLESS at signup to receive your first month completely free!
MEET JULIE LOUNSBURY
Julie is a perinatal/maternal mental health therapist based in London, Ontario. She specializes in working with parents on all stages of their parenting journey. Julie is a registered social worker and has been providing services to families for over 10 years.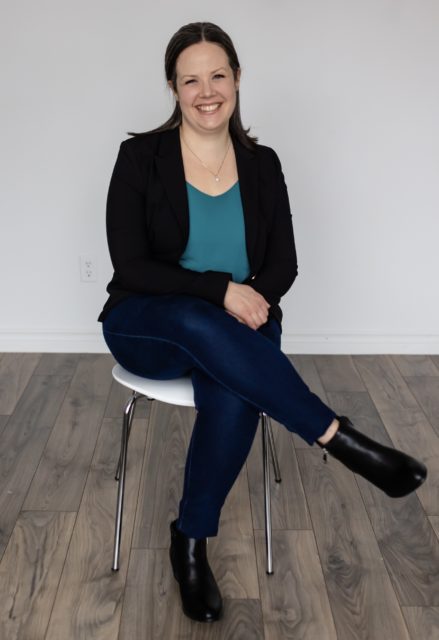 Learn more about Julie on her website, Instagram, and Psychology Today profiles. 
In This Episode
Community within private practice

Choosing to commit to your practice

Find people to learn from and observe 

Working well within your niche 

Julie's advice to new practitioners
Community within private practice
Starting and running your own Canadian private practice can become a lonely job after a while. In the beginning, it can feel great to be your own boss and to get things done your own way, in your own time, and not have to worry about workplace dynamics or dealing with a difficult co-worker. 
Although, after some time, you might find yourself starting to look for a professional community. Not only does that community sustain you socially in an isolated job, but it can also be a good sounding board for when you want some advice, and even support. 
'When it comes to deciding to do private practice … having [a] community and not having [a] community where you are working can be a [big] factor of deciding to do private practice … because you get a need met [in a professional community] that can be really difficult to [get] met when you're in private practice.' – Julia Smith 
Choosing to commit to your practice
'I think I knew that I was done in child welfare and … had started my career hoping to do this. I felt like I needed to and owed it to myself to at least give [my private practice] a full-time effort.' – Julie Lounsbury
Julie got to a place in her professional (and also personal) career where she wanted to invest in herself. She wanted to at least give it one shot to put effort into her practice, and knew that if things didn't go as planned that she could go back to child welfare. The shot was worth it! 
The biggest hurdle that Julie had to get over when starting her private practice was the financial piece. 
'A lot of what keeps people in these stable government jobs [are] benefits, paid vacations, pensions, like really tangible important things … so it was a bit of a leap of faith … I felt like I was at a good break-even point where at least I could do it without [it] costing [too much].' – Julie Lounsbury  
Therefore, when you are deciding on starting your Canadian private practice, run your numbers first and see where your capacity is because it will look different from person to person. 
However, if the desire to start your practice is calling you, consider looking into it, because there are ways to achieve this dream.'For me, if it's at a point where it's costing your mental health to stay where you are … like, I was looking at my pension report and I still had 20 years! Like, I was not going to make it that long and still be well. So, that was the tipping point [to starting my own practice.]' – Julie Lounsbury
Find people to learn from and observe 
'I am a worrier so this was a big leap of faith for me, it's not something I typically would have done, but talking to other people who are further along in the journey [helped a lot] and just realizing that there are these ebbs and flows.' – Julie Lounsbury
Private practice is not fully "safe" in the way that a government job claims to be. In a way, there is no completely "safe" job. To ease your worries or concerns about running your private practice, connect with other practice owners and discuss the process. 
You'll learn that private practice has patterns that shift and change and that can sometimes be predictable so that when there are difficult months, you know not to worry unnecessarily. 
'There's always that [insecure] feeling but that can be motivating as well and makes you feel more alive [and proactive!] like, "Okay, I've got to do things! And it can be really fun when it works!"' – Julia Smith 
Working well within your niche 
Not only is your niche important for marketing, connecting with your ideal client, and doing your best work, but it will also guide you in which services you can offer your clients. 
Depending on who your client is, what their lives look like, and what their needs are, you can structure your services around them to make yourself even more valuable and needed in the community while providing great services. 
'I actually [work with] a lot of moms who prefer to connect by phone because they're hands-free, and they're not worried about their hair or makeup … my niche is definitely a factor in why online and telehealth are still so popular.' – (Julie Lounsbury) 
Let your niche be within the overlap of your skills and your professional interests because that is where you will do the best work.
Julie's advice to new practitioners 
Mostly, you have to feel good about the work you are doing, and that goes back to you representing yourself well and being well supported by colleagues and supervisors. When deciding on a niche make sure you have the skillset and if you don't, take additional courses to become competent before offering that service. 
'The plan for me is to continue to grow … I will continue this steady growth that I'm on and hope that it leads to a full practice.' – Julie Lounsbury
Connect With Me
Resources Mentioned and Useful Links:
Ep 69: Eileen Bona: Incorporating Animal-Assisted Therapy in Counselling
Learn more about the tools and deals that I love and use for my Canadian private practice
Sign up for my free e-course on How to Start an Online Canadian Private Practice
Jane App (use code FEARLESS for one month free)
Learn more about Julie on her website, Instagram profile, Psychology Today profile, and Facebook account. 
Rate, review, and subscribe to this podcast on Apple Podcasts, Google Podcasts, Stitcher, Spotify, Amazon, and TuneIn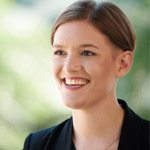 About Julia
Julia Smith, MEd, RCT, CCC, is the owner of Fearless Practice. She specializes in consulting with Canadian counsellors and therapists who want to start a private practice. She also owns a private practice in Halifax, Nova Scotia where she helps teenagers and adults who want to be confident and happy but are feeling weighed down by anxiety, stress, and depression. She also blogs for the Canadian Counselling and Psychotherapy Association. You can read more articles about Canadian counselling and psychotherapy at www.ccpa-accp.ca/blog/.