The Canadian struggle: Deciding to get an HST number in private practice
Starting a Canadian Private Practice
HST NUMBER
When I started in 2015 it was advised that I get a Harmonized Sales Tax (HST) (known as a Goods and Services Tax (GST) and/or Provincial Sales Tax (PST) in some provinces) number, as it would make me look 'more legit' to charge tax. I also had big dreams and thought I'd be making over $30 000.
This did not happen.
You see, if you are a small business owner, you do not have to charge tax on your first $30 000 each year. BUT if you have a HST number, you will have to collect tax starting with your first dollar! That means that every year you make less than $30 000, you could be saving your clients money (or earning a larger income for yourself) if you do not have an HST number. The scary thing is, that once you go over the minimum $30 000 you will have to pay tax for your ENTIRE income (which would be a lot of extra money if you didn't save for it)!
The Tide Is Changing!
Things are moving fast in the counselling world! In order for mental health counsellors to not have to charge tax (like our fellow psychologists), we need to be regulated in at least five provinces. Currently, we are regulated in four (Ontario, Quebec, New Brunswick, Nova Scotia) and all other provinces are in the process of becoming regulated! On November 2, 2017, an MP introduced a Private Members bill entitled An Act to amend the Excise Tax Act (psychotherapeutic services). When passed into law, we will not have to charge HST! After the introduction of the bill, over 5662 counsellors across Canada signed a petition supporting the bill and requested that the House of Commons remove HST on psychotherapy. On June 21, 2018 the petition closed. So now we wait.
Should You Get and HST Number?
Ask yourself these three questions to help you decide:
"Is it important to you to look 'more legit' by charging tax?"
"Do you expect to be making over $30 000 annually before the possible
amendment?"
"Will you be charging for other services that will not be exempt from the
possible counselling HST reform?"
Disclaimer: The information provided through this blog is for informational purposes only. It is not clinical or consulting advice. E-subscribers and website visitors are receiving general advertising and information about starting a Canadian private practice and should not act upon this information without seeking professional consultation.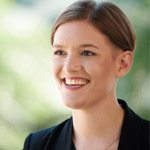 About Julia
Julia Smith, MEd, RCT, CCC, is the owner of Fearless Practice. She specializes in consulting with Canadian counsellors and therapists who want to start a private practice. She also owns a private practice in Halifax, Nova Scotia where she helps teenagers and adults who want to be confident and happy but are feeling weighed down by anxiety, stress, and depression. She also blogs for the Canadian Counselling and Psychotherapy Association. You can read more articles about Canadian counselling and psychotherapy at www.ccpa-accp.ca/blog/.